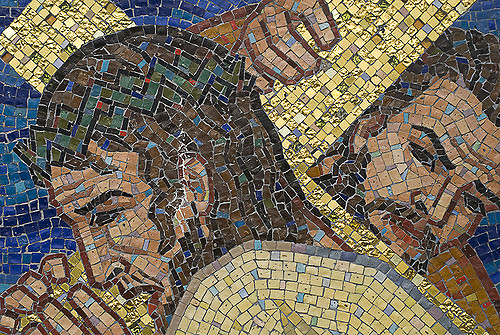 When I was 22, I ventured off to Washington DC to live in community in inner city DC with seven amazing women in the Lutheran Volunteer Corps. My placement was a vibrant place of ministry called Bread for the City, which proved to be transformative in ways I had no idea were coming.
One of the first clients assigned to me was *Celia, a large black woman with a wide embrace and wide smile.  She welcomed me with literal open arms, a big hug from a big woman with a big heart.  Many times I visited Celia's one bedroom efficiency in a tough part of DC.  I could see right off the bat that she was not lacking for clothes.  She visited our clothes closet daily, and clothes filled every spare corner of her tiny living abode, including lamp shades and chairs.  I also concluded that she was not in need of food, as she had access to our food pantry.  She also had Medicaid, and was a regular patient at the free medical clinic at Bread for the City.  So my quandary became, what was I supposed to offer to Celia? I had what I thought were good ideas (hatched from all my life experience as a white girl from Iowa).  Every time I pitched an idea to Celia, she would rear back her head and laugh- "girl, all I really need are some pictures of Jesus."
When I finally resigned myself to the fact that Celia knew something deeper than I did about what was called for in these times, I began the great hunt to find her some pictures of Jesus. I enlisted all my housemates to help find pictures of Jesus in thrift stores using our limited volunteer corps monthly stipend.
When I finally encountered the big prize- a large portrait of Black Jesus with his hands outstretched, I knew Celia would approve. I brought it to her efficiency one afternoon, and her words were these: "you finally believed what I really needed." Her eyes filled with tears, and of course she held me in a big warm embrace. I felt a flood of satisfaction, that I had been a part of this project that Celia ordained of finding Jesus in thrift stores in Washington DC.
I share this story in the backdrop of the Passion Palm Sunday, against the story of Jesus asking for a donkey to ride on the road into Jerusalem where he knew he would face his death. There are just so many ways that I want to question Jesus' sense of what is needed at this time, and a donkey is just the start. Why a donkey? Why Jerusalem, with all the Roman soldiers and the controversial temple? Why the fanfare in the procession where Jesus rode the donkey? Why the death? Why not fight back? So many questions are raised in the Passion story, and so many ways that I want to question Jesus' authority about his sense of what was right in these times. Could there have been another way? A less painful way? A way with more ease? A way without a cross, without a death? My mind wanders to all the alternative ways that salvation comes about, ways without all that suffering, the blood, the trauma.
Enter Simon from Cyrene. Simon is the one who becomes conscripted by Roman soldiers to carry the cross for Jesus, a job that certainly I would never want to have to do. He develops a unique role in this story of murder, an unwitting accomplice in this event that is about to unfold. He becomes part of the procession, part of the problem, part of the story. I would imagine that there were a hundred other places Simon would rather be.
I find myself in this Passion story, not truly able to distinguish what role I want to take on in this story. Should I stand at the sidelines, and cheer on this popular hero? Should I carry the cross and become an accomplice in this death sentence? Should I stand and jeer at the crowds, and mock Jesus' followers? Am I in actuality a Roman soldier, being a participant in the killing process by what I either do or omit to do? Am I one of the robbers on either side of the cross where Jesus hung, who committed real crimes that may deserve real remuneration?
The Passion story surfaces all the ways that I feel conflicted about my role in relationship with this suffering servant named Jesus. I don't know whether to stand with the crowd, loan him a donkey, insist on serving him some water, commit a nonviolent protest, or what. I am left feeling a little like I felt with Celia. What have I truly to offer? What am I willing to receive?
Simon of Cyrene, ordered by the Roman soldiers to carry the cross, did not really have much choice in the matter. Carrying the cross was both a burden and a gift. Those of us in privileged positions are often given more choice about how we show up in the world. We are also given choice about the kind of relationship that we want to have with Jesus. Maybe Jesus is your friend, or your wisdom teacher, your messiah, your critic, your guide, your confidante, or he may be merely a literary figure that you have heard of- the range of relationships with Jesus is wide. But no matter where you land on the spectrum of affinity to Jesus, the Passion Story invites you to consider your role in this scene of injustice and murder.
Many of us, myself included, may not be as heroic as we wish that we were. For example, I may feel fine about waving palm branches in a parade as Jesus and the awkward donkey ride by, but ask me to counter the Roman soldiers who await him, and I go weak in the knees. Others among us have much more experience in countering Roman soldiers, but they may not be as skilled at standing at the foot of the cross as Jesus dies.
We are all asked to figure out our role in this story of God that is unfolding. We don't have all the answers. Goodness knows, I did not hold the answers for Celia, as she knew herself exactly what she needed and how I could show up for her. But we are given clues along the way, if we truly listen.
In this season of the pandemic, as we are beginning to come up for air, we may sense a cavern of grief and loss inside of us.  I felt it recently inside my parents' home where I had not been for a year. I acutely sensed the loss of a whole span of a year.  Our spirits have been tested, and we have all walked the road to Calvary, some with more loss than others.  How do we show up for ourselves with self compassion?  For our loved ones? With our faith?  With our faithlessness? 

I have a friend named Susan who works in mental health and lives along the ocean.  I listened to her give a talk a few weeks ago, and she shared about the practice of beach combing when the tide recedes.  What is left behind is often anyone's guess, when the tide goes out.  Random sunglasses, strewn garbage beaten by the surf, creeper crawly things that burrow in the sand whose names I don't even know, sometimes jellyfish, sometimes beautiful shells, sometimes wampum which Native people used to trade for currency, and sometimes- if you are very lucky, beach glass.  Beach glass is shards of glass worn by the pulsing of the ocean into a very smooth, very beautiful piece.  A receding ocean leaves behind debris, but there is the occasional gift of seeing a sparkle in the sand.
Celia inspires me as I think about this time looking ahead and rebuilding our society in months to come after the upheaval of pandemic and racial reckoning. She was a woman who knew her own trauma, but she also knew her own needs. She knew what she truly needed to feel healing and love in her life. It was a good laugh, a good hug, and some images of the Jesus who walked with her through her own Calvary.
May there be sparkle in the sand amid the debris. May we trust in our own callings that come forth from deep within, but listen for what is most needed. May we embrace self-compassion as well as compassion for friends and strangers in our midst.
In this season of the cross, in this global season when we will look ahead to social recovery- how will we mobilize our faith, our resources, our spirits, our compassion? When we are asked like Simon of Cyrene to carry the cross, what will we do? What is our relationship currently with this suffering Jesus of the cross? What do we lay at the foot of the cross from our own lives?
*Celia is a fictitious name
Image from https://www.americamagazine.org/sites/default/files/main_image/simon_of_cyrene.jpg